about us
About Us
The Alpine Dojo was first opened in 1998 by Sempai Joe Vrtatic. After humble beginnings at the local school gymnasium, it was located at the Bright Sports Centre, in Gavan Street, using the Aerobics Room. In 2001 Sempai Vrtatic moved to Geelong, and the dojo was taken over by Sensei Geoff Miller, a karateka & dojo operator, who had moved to the North East.
The Dojo currently runs from 2 venues – Porepunkah Public Hall, and Myrtleford Senior Citizens Hall. (please see Training Times tab for details)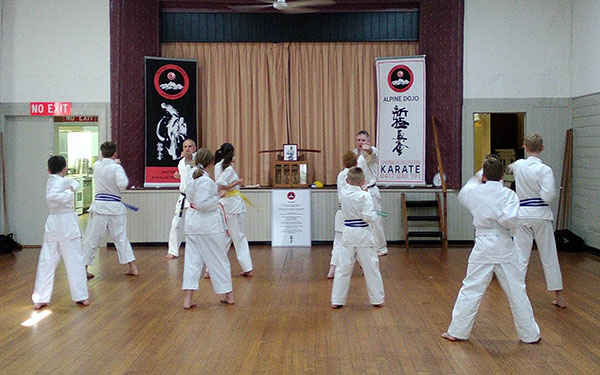 The Alpine Dojo is a thriving and dynamic karate club, offering classes for 6-10 year olds, Junior & Senior age groups. With a firm focus on excellence in technique, disciplined training, personal challenge and a supportive, family environment, we are committed to bringing out the best in our students.
The Dojo is actively involved in Regional, State, and National tournaments, offering keen students a variety of event categories to compete in.
Our Instructors have current Level 2 First Aid,and Working with Children accreditation. The Dojo has formulated a policy which is compliant with Victorian Child Safe Standards legislation.
Our Senior Instructors hold COVID Safe Martial Arts Instructor Certification certificates with the Martial Arts Industry Association.
The Instructors would sincerely like to thank the parents and local community for allowing our Dojo to grow and prosper.